I'm extremely excited to introduce The Pixel Lab "Video Board Pack!" I've collaborated on this project with my buddy Remco. We've created a HUGE pack with 24 3D Video Board/Screens. These are extremely versatile: you can use one of the pre-built environments or you can copy & paste the video board into your own scene. Drop your footage or logo onto it and you have a great way to display content in a 3D environment. I really hope this pack will be helpful to you!
(Click any images for larger view)
The models are made with Cinema 4D R12 and include textures. NOTE: They will NOT work in versions previous to R12. You may use these models for personal or commercial use, just not for stock or resale in any way. I have made a .lib4d file so you can load these models into your Cinema 4D Content Browser and easily access the models at any time! Many of these models are worth well over $30 individually so we have again provided a great deal in the hopes of making this affordable for everyone! If you have any questions about the pack, please e-mail me at: joren@thepixellab.net.
This pack includes:
Aperture Model: Xpresso rigged to open and close with moving gears and aperture blades
Audio Warehouse Stage
Broadcast Open with a ring of video boards
Broadcast Sports Open: Use the Xpresso User Data to choose one of 6 different sports versions
Broadcast Video Board 1
Clean Glass Board
Engine Board
Grungy Video Board + Grungy Industrial Wall Scene
Stage Lift Board: Xpresso rigged to animated with realistic hydraulic action
Metal Video Board
Racing Broadcast Scene (Modifiable to a generic one if you want)
Robot Arm Board
Robot Board: Xpresso rigged to animate along bar, tilt up/down with accompanying chain movements
Sci-Fi Scene
Sci-Fi Tech Board
Simple Monitor
Sports Broadcast Interior (glowing lights are simple Optical Flares in AE, not included)
Truss Video Board
Video Monitor
These video boards can be easily pasted in any environment and are a great way to display footage or logos in a 3D scene. I hope you enjoy them!
---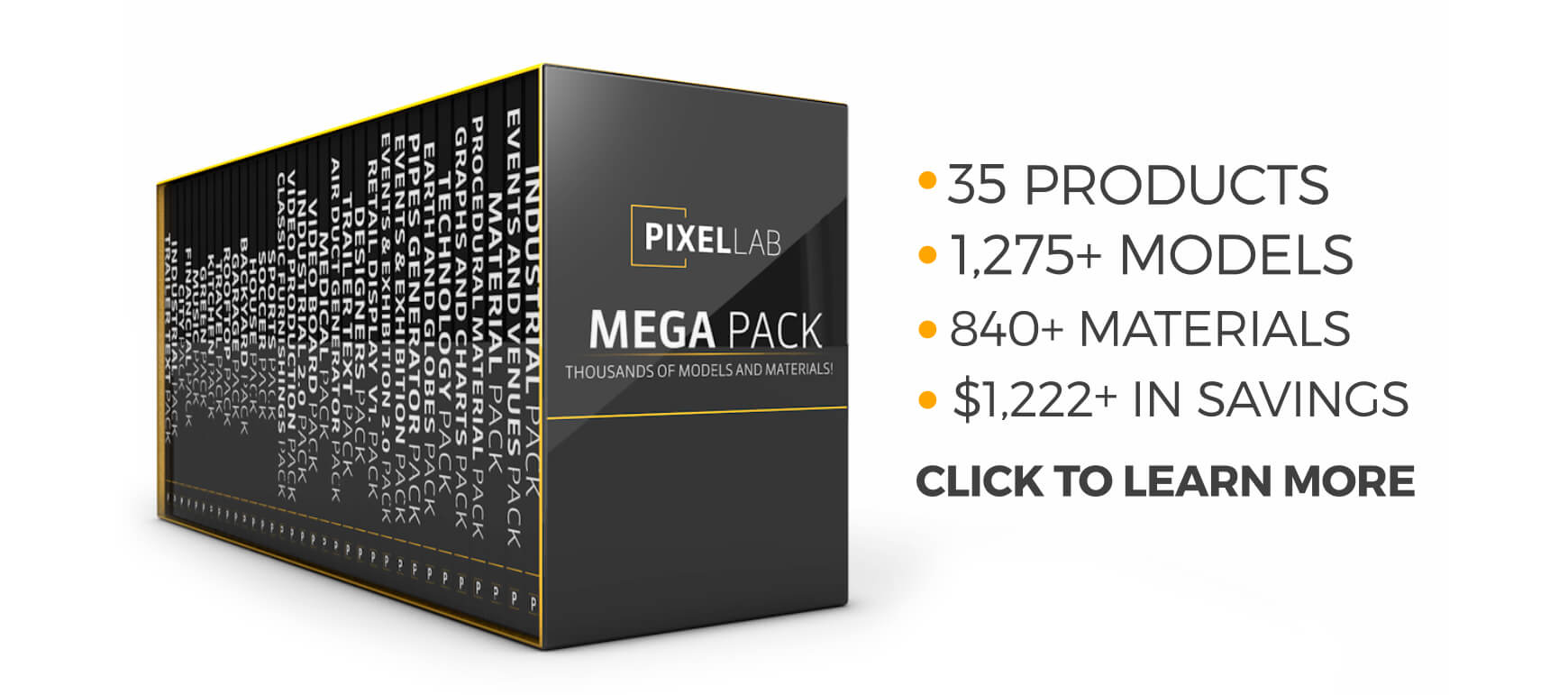 For the best deal available on the Video Board Pack check out the Mega-Pack. You can save 50%!