I'm extremely excited to introduce The Pixel Lab "City Pack!" I've collaborated on this project with my buddy Remco over at remmac3d.blogspot.com. We've created a huge pack with over 20 city themed models, 3 full 3D environments, 16 graffiti C4D textures and 40 image textures. I really hope this pack will be helpful to you!
3 Complete 3D Environments
20 City Themed Models
Road Sign Generator
16 Graffiti C4D Textures, Pre-Keyed and Prepared in a .lib4D File

Over 35 Image Textures Including 3 Seamless Textures
The models all include textures. I have made a .lib4d file so you can load these models into your Cinema 4D Content Browser and easily access the models at any time!
NOTE: These models will NOT work in versions previous to R12.
The graffiti artwork is done by Yerikho Naektua and is used with permission. Check out his work here: http://iyeq.deviantart.com
The roadsign vectors were created by Fuzzimo and used with permission. For more free vectors go to www.fuzzimo.com.
Many of these models are worth over $20 individually so we have again provided a great deal in the hopes of making this affordable for everyone! If you have any questions about the pack, please e-mail me at: joren@thepixellab.net.
This pack includes:
Three complete environments, an Alley, an Office and a Train Tunnel
Alley Pipes
Construction elements including various road blocks and cones
Dumpsters
Fire escape stairs
Fire hydrants
Guard rail for beside roads
A skateboarding/biking half-pipe
Mailboxes
Neon sign that is very easy to customize
Newspaper stand
Park bench
Parking ticket machine
Railroad crossing elements
Road sign that is very easy to customize
Sewer cover (manhole cover)
Trash can
Road Sign Generator: Choose from 96 signs, 6 Post styles and 2 Bolt styles and quickly create a custom road sign.
16 hand drawn graffiti textures, pre keyed, in a .lib4D file so you can easily access them in your content browser.
Over 35 image textures, including 3 seamless textures, perfect for textured design work in 2D or 3D
---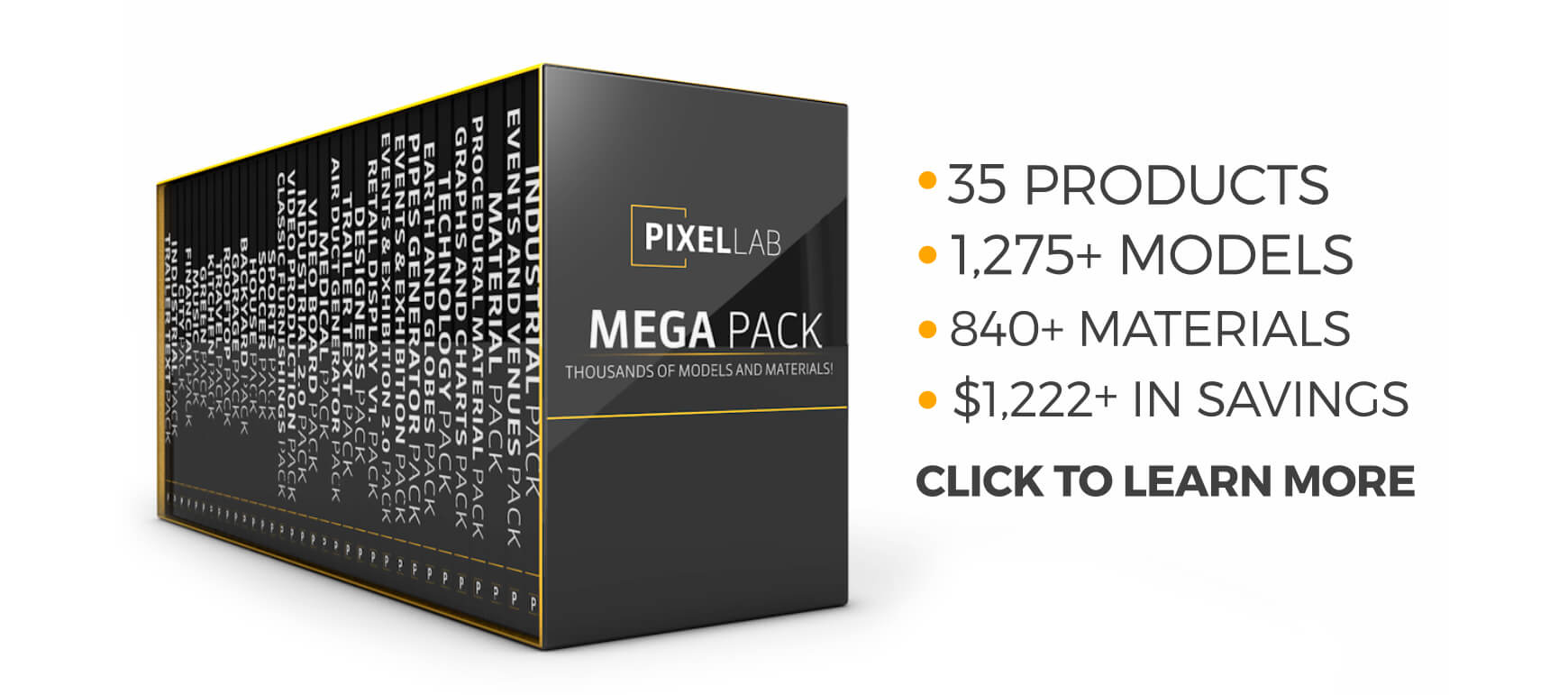 For the best deal available on the City Pack check out the Mega-Pack. You can save 50%!