I'm excited to introduce The Pixel Lab "Events & Exhibition Pack!" I've collaborated on this project with Simon Spencer-Harvey and Remco van der Meer. We've created over 50 elements including 8 full 3D environments that will hopefully save you tons of time on your projects. This pack is extremely versatile with elements for concerts, events, conferences and exhibitions.
(Click on any image for a larger view)
The models are made with Cinema 4D R12 and include textures. NOTE: They will NOT work in versions previous to R12. You may use these models for personal or commercial use, just not for stock or resale in any way. I have made a .lib4d file so you can load these models into your Cinema 4D Content Browser and easily access the models at any time!
Many of these models are worth well over $30 individually so we have again provided a great deal in the hopes of making this affordable for everyone! If you have any questions about the pack, please e-mail me at: joren@thepixellab.net.
This pack includes the following C4D models:
Booth Curtain 3D Model
Cafeteria/Restaurant Full 3D Environment Model
Ceiling Spotlight 3D Model
Chairs 3D Model
Conference Room Full 3D Environment (Dressed and Empty)
Conference Seating Xpresso Rig
Exhibition Stall 3D Model
Expo Hall Full 3D Environment Model
Fancy Conference Table 3D Model
Folding Table Xpresso Rigged to Animated
Gazebo Tent Marquee 3D Model
LED Batton Uplighter 3D Model
LED Batton Uplighter 2 3D Model
Rigged LED Spotlight with 15 Different Gobo Textures
Low Poly Display Laptop
Low Poly Monitor
Low Poly Speaker 1 3D Model
Low Poly Speaker 2 3D Model
Marquee Tent 3D Model
Plain Conference Table 3D Model
Podium 1 with Built in Screen 3D Model
Podium 2 Metal 3D Model
Podium 3 Basic Acrylic 3D Model
Podium 4 Acrylic 3D Model
Podium 5 Acrylic Metal Bars 3D Model
Podium 6 Acrylic 3D Model
Podium 7 Truss 3D Model
Podium 8 Uplighters 3D Model
2 Podium Microphones 3D Model
Freestanding Microphones: 4 versions 3D Models
Pop Up Graphics Banner Small 3D Model
Pop Up Graphics Banner Tall 3D Model
Projectors: Low Poly, Medium and High Poly 3D Models
Projector Screen 3D Model
Round Table 3D Model
Spotlight 3D Model
Stage Builder Xpresso Rig for Customized Stages
Steel Deck Platform 1 3D Model
Steel Deck Platform 2 3D Model
Stool 1 3D Model
Stool 2 3D Model
Truss Winch Stand Xpresso Rigged to Animate
Venue Hotel Dressed full 3D Environment
Venue Hotel Empty full 3D Environment
Venue Hotel #2 Dressed full 3D Environment
Venue Hotel #2 Alt. Dressed full 3D Environment
---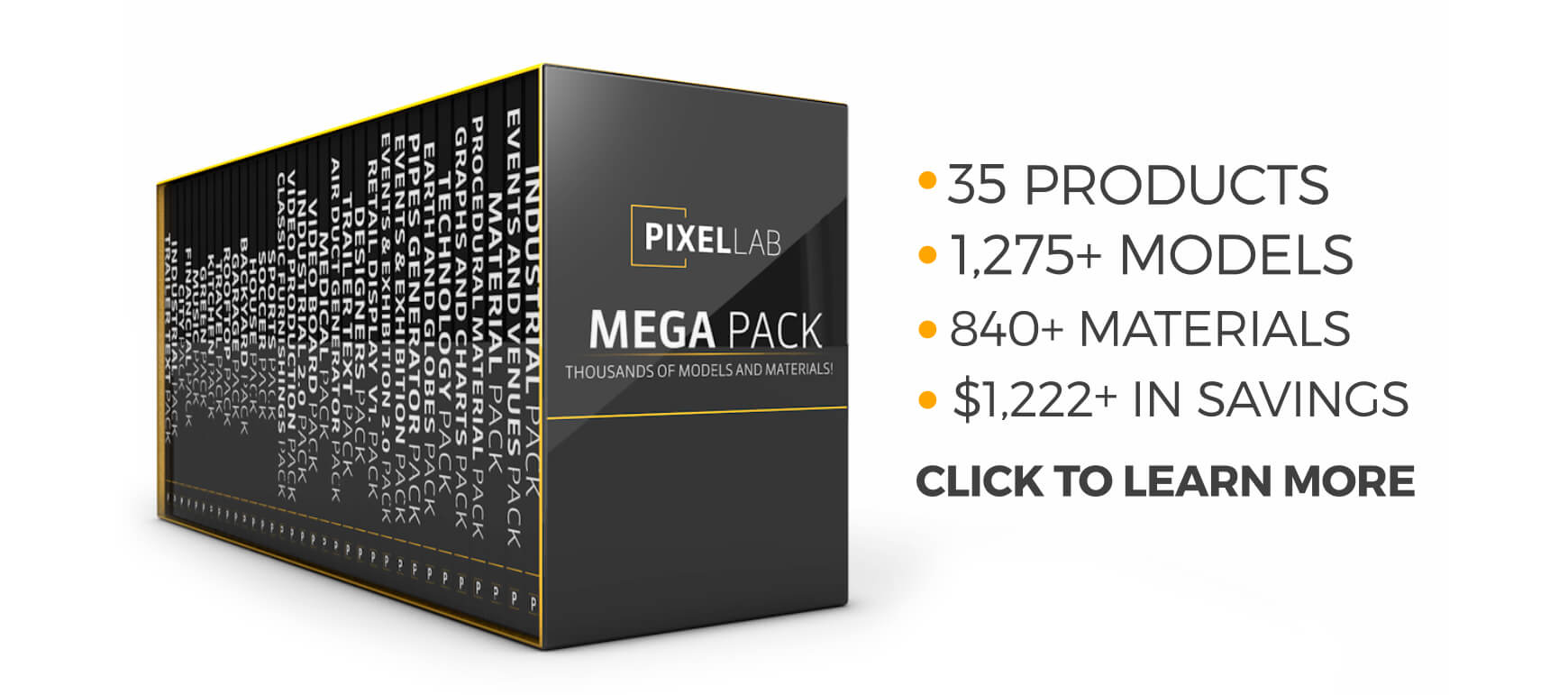 For the best deal available on the Events & Exhibitions Pack check out the Mega-Pack. You can save 50%!