I'm extremely excited to introduce The Pixel Lab "Industrial Pack 2!" I've collaborated on this project with my buddy Remco. We've created a HUGE pack with over 20 industrial models, 10 C4D Terrain Shaders, 5 Complete 3D Scenes, 30 Industrial Textures, 24 HDRIs and a Studio set! I really hope this pack will be helpful to you!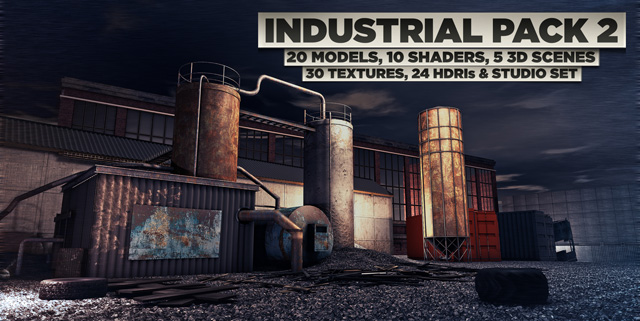 (Click any images for larger view)
Over 20 Industrial models, 5 Complete 3D Scenes, 24 HDRI's, 30 Industrial Textures, 10 Terrain Shaders and a Studio Set
The models are made with Cinema 4D R12 and include textures. NOTE: They will NOT work in versions previous to R12. I have made a .lib4d file so you can load these models into your Cinema 4D Content Browser and easily access the models at any time! Also, 2-3 of the models use the Physical Sky which is only available in Studio version. If you don't have studio version, simply delete the sky and add a normal Sky with your choice of HDRI texture.
Many of these models are worth well over $30 individually so we have again provided a great deal in the hopes of making this affordable for everyone! If you have any questions about the pack, please e-mail me at: [email protected]
[vimeo]http://vimeo.com/40118874[/vimeo]
This pack includes:
Barbed Wire Fence 3D Model
Cement Mixer 3D Model
Chandelier 3D Model
Corrugated Roof 3D Model
Brick Facade 3D Model
Dutch Facade 3D Model
Factory Setup 3D Model
Gas Storage Tanks 3D Model
Hangar 3D Scene
Hoist 3D Model
Industrial Fan 3D Model
Industrial Outdoor 3D Scene
Metal Bucket 3D Model
Old Warehouse 3D Scene
Old Warehouse 2 3D Scene
Paint Tube 3D Model
Rusty Pipes 3D Model
Propane Tanks 3D Models
Oil Pump 3D Model
Scaffolding Rig
Warehouse Shelves 3D Scene
Spray Cans 3D Models
Train Station Platform 3D Model
10 C4D Terrain Shaders
24 HDRIs
30 Industrial Textures
Warm Studio Setup